Join us in Orlando for Agile + DevOps East!
Discover the latest in agile and DevOps methods, tools, and leadership practices along with ideas and inspiration from experts and peers.

You'll find out how the practice of agile and DevOps brings cross-functional stakeholders together to deliver software with greater speed and agility while meeting quality and security demands. Learn from industry experts how your organization can leverage agile and DevOps concepts to improve deployment frequency and time to market, reduce lead time, and more successfully deliver stable new features.
Keynotes
Experience engaging speakers as they share industry expertise to inspire and motivate you and your teams. Keynotes will be announced soon!
Concurrent Sessions
Expert industry speakers will lead the way on topics like test Agile & DevOps Practices, Tools & Automation, Agile & DevOps Transformations, Teams & Leadership, AI & ML, and more.
Training + Tutorials
Maximize your in-person learning and stay ahead of emerging trends in the industry by participating in a pre-conference training class. Or, attend a tutorial to dive deeper into topics that matter most to you.
Leadership + Professional Growth
Solve your biggest challenges at our Agile + DevOps Leadership Summit. You'll hear what's working—and not working—and have the opportunity to share your experiences and successes.
Sessions
Customize Your Learning Experience
Concurrent sessions offer you the flexibility to explore a wide variety of topics throughout the conference on Wednesday and Thursday. Think of it as a customizable learning experience. Stick with one main conference topic or jump around to experience them all.


Explore the Schedule→
Training + Tutorials
Advance Your Knowledge and Career
Take One of Our Tutorials
Our tutorials are consistently the most popular and highly rated part of the conference. They allow you to take a deeper dive into a specific topic so that you can learn to make improvements to everyday processes in the areas that matter the most to you.

Supercharge Your Knowledge
Maximize your in-person learning and stay ahead of emerging trends in the industry by participating in a pre-conference training class.


Explore the Schedule→
Group Discounts + VIP Program
Under 6 People? Save Up to 20%! You can receive a group discount of 10% off for 3+ people and 20% off for 6+ people on both in-person and virtual passes. It pays to have friends! Become a VIP! Take your conference experience to the next level with access to testing experts, networking opportunities, and planning strategies to make the most of your time at the event. You'll receive 20% off your conference package, two free Leadership Summit Passes, one hour of consulting, and exclusive networking. Contact Us About Groups→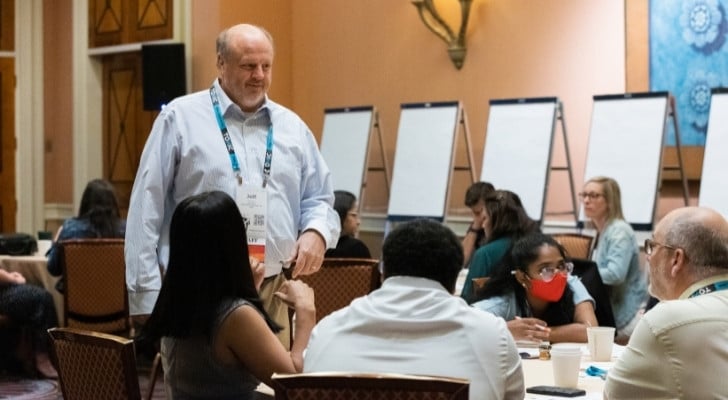 Leadership Summit
Leadership has never been more important. Between navigating on-going economic challenges, dealing with staffing changes, and addressing tough issues surrounding back-to-office policies, while keeping our teams focused on business results is a challenge. Join in the conversation with your peers as experienced technology leaders share ways to lead and make software organizations successful. Discover how seasoned leaders have grown their leadership skills and what they believe the keys are to becoming exceptional leader. Explore the Summit→
Explore Top Solution Providers at The Expo
Top Technologies and Tools All Under One Roof!
Premier Sponsors
Platinum Sponsors
Gold Sponsors
Silver Sponsors
Bronze Sponsors